single show
St. Patrick's Day Celebration with Pierre Schryer & Quinn Bachand
Saturday, March 18, 2023 / 7:30 pm
6:00 pm for dinner service
Upstairs Lounge, Oak Bay Recreation Centre, 1975 Bee Street, Victoria, BC V8R 5E6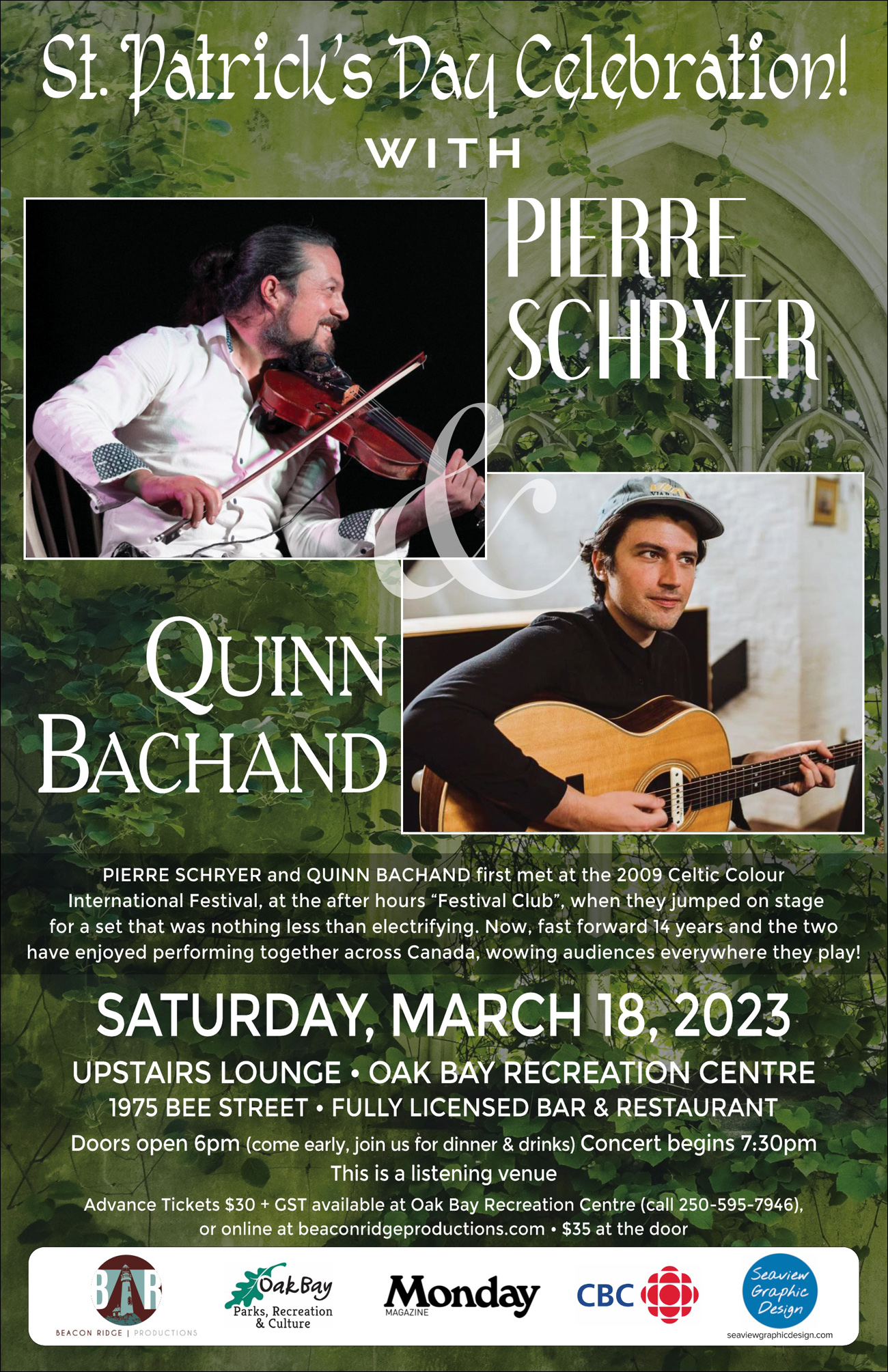 Pierre Schryer and Quinn Bachand first met at the 2009 Celtic Colours International Festival, at the after hours "Festival Club", when they jumped on stage for a set that was nothing less than electrifying. (See video – first time ever performing togeter). Now, fast forward 14 years and the two have enjoyed performing together across Canada, wowing audience everywhere they play. We're excited to have them back together for what will surely be a memorable performance.
Pierre Schryer is one of Canada's leading traditional fiddlers. A recipient of numerous titles and awards including Canadian Open Fiddle Champion, Grand Masters Champion, Violoneux Championnat, and North American Irish Fiddle Champion, Pierre truly captivates an audience with his energy and genuine warmth. His ability knows no bounds, covering styles from Irish, Scottish, Québecois, and Cape Breton to Canadian Old Time, American Swing and more. As leader of his self- titled group, Pierre Schryer Band built an international reputation as one of Canada's most well respected traditional music ensembles by touring throughout Canada, the USA, Ireland, Europe and the UK since the mid-90's. Pierre has shared the stage with dozens of internationally renowned colleagues in the traditional music scene and has performed with numerous orchestras across Canada with his acclaimed Symphony Pops show. Of his six recordings released on his own label New Canadian Records,"Blue Drag" was nominated at the 2004 JUNO Awards for best Roots and Traditional (Group) Album of the Year, "Mélange" at the 2008 Canadian Folk Music Awards for Instrumental Solo Album of the Year, and "2 Worlds United", a brilliant duo album with top Irish button accordionist Dermot Byrne, was distributed by Claddagh Records. Pierre's talents extend beyond his musical abilities. An accomplished luthier and artist, he currently performs on one of his own violins and creates the cover art and design for his recordings. Pierre was the Artistic Director of the "Canadian Celtic Celebration," a festival presented in Thunder Bay, Ontario for 16 years.
With diverse musical talents and a bottomless pool of creativity, Quinn Bachand is recognized as the "Young Lion" of the Celtic guitar (Daniel Lapp) and "Canada's top Celtic guitarist" (Ashley MacIsaac). Although Quinn plays a range of styles that include jazz and bluegrass, it is his talents in the world of Celtic music that are drawing the most attention. His virtuosic playing is more than eye-catching fret-board fireworks. A gifted and creative guitar player, Quinn adds a contemporary edge to traditional Celtic music. His unique harmonies, hard-driving strumming, inventive chord voicing and powerful rhythmic effects make even the most well-worn tunes seem new and exciting. An in-demand sideman, Quinn has also toured nationally and internationally with well known musicians including Canadian fiddling icons Ashley MacIsaac and Natalie MacMaster. Quinn's jazz alter ego fronts an award winning gypsy jazz ensemble, Quinn Bachand's Brishen. He is also a member of the Grammy Nominated ensemble Kittel & Co. Quinn currently resides in Montreal.
The Upstairs Lounge is an all ages licensed restaurant and bar, doors open at 6 pm for dinner service, the show starts at 7:30 pm.
Buy tickets