single show
The Soul Shakers Dance Party
Saturday, February 4, 2023 / 7:30 pm
6:00 pm for dinner service
Upstairs Lounge, Oak Bay Recreation Centre, 1975 Bee Street, Victoria, BC V8R 5E6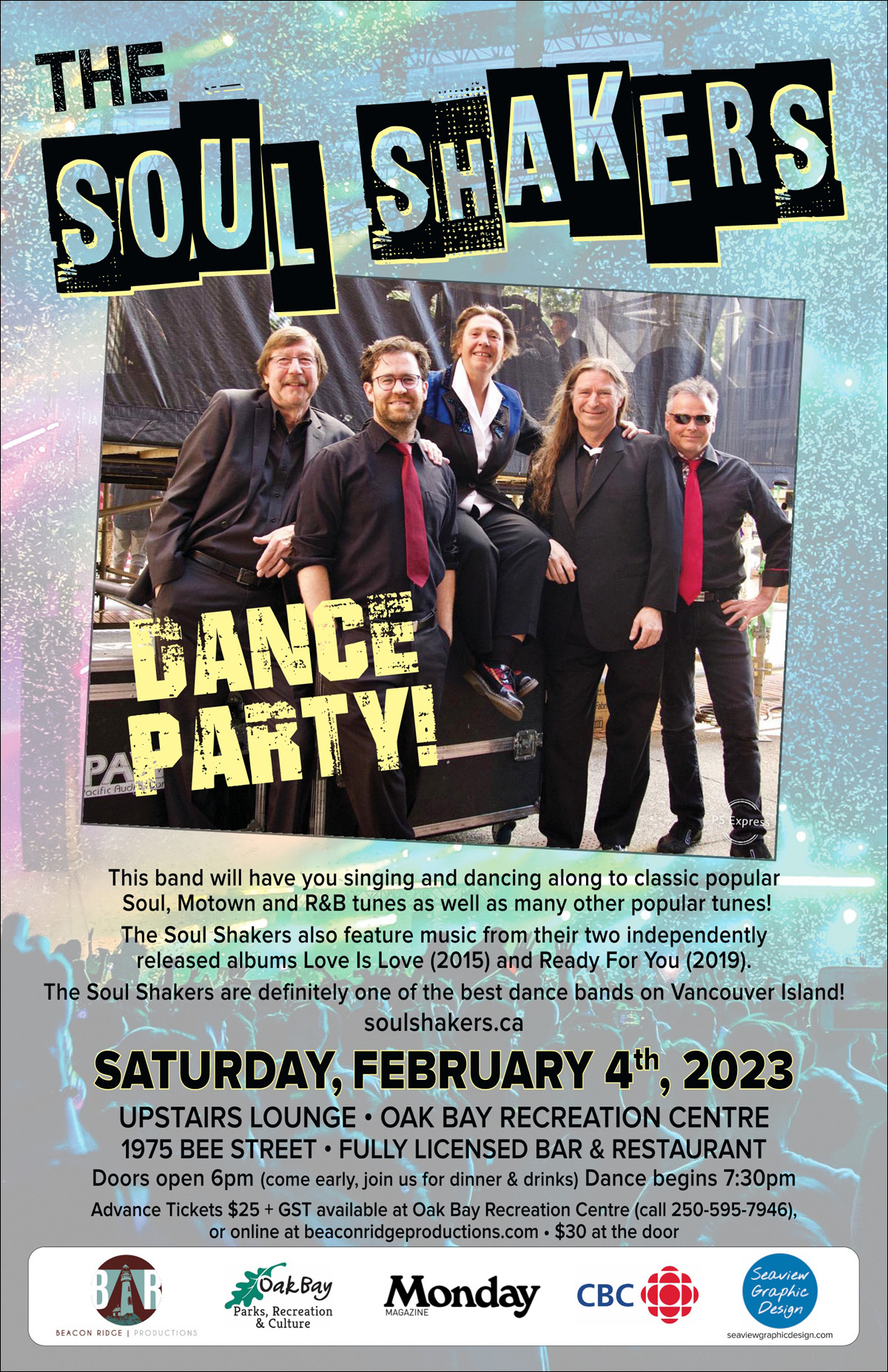 https://soulshakers.ca
The Soul Shakers are definitely one of the best dance bands on Vancouver Island!
Top-notch musicianship, stellar harmonies and high energy performances are a trademark of this fine band led by powerhouse singer and entertainer Joyce "the voice" Allensen. This band will have you singing and dancing along to classic popular Soul, Motown and R&B tunes as well as many other popular tunes. The Soul Shakers also feature music from their two independently released albums Love Is Love (2015) and Ready For You (2019).
Considered one of the leading blues/soul vocalists in Western Canada, Joyce Allensen, known as "The Voice" to her musical peers, is an incredibly powerful vocalist as well as being a vibrant stage personality which she has honed over the last 30 years as lead singer for such notable acts as 605, Double Image, Mr. Puffy, and Victoria's popular R&B band Soul Station.​
Originally from Copenhagen, bassist Henning Kanstrup has played with such legends as Hubert Sumlin (Howlin' Wolf's guitarist) and Pat Travers. Kanstrup, whose influences include Jaco Pastorious, James Jamerson, and Jack Bruce, played with a series of Victoria bands including Soul Station, The Scorchers, and the Blue Devils.
Paul started playing at age 17 and was a member of Showdown performing on the Rodeo Song album in 1980. The album was went triple platinum in Canada, sold in many countries around the world and was nominated for a Juno award in 1982.
Sean was born in Toronto, came to attend university in Victoria – and never left. He has played guitar, keyboards, bass, and sung with numerous pop, rock, and country bands over the years, as well as having travelled Canada and the US with showbands.
Alexander Ferguson is a singer, keyboardist, composer, songwriter, sound designer, musical director, and teacher. He has performed as a vocalist and keyboardist in many venues across the island and on the mainland with multiple rhythm & blues and pop projects.
Get ready to feel the joy of a Soul Shakers performance! You won't leave the dance floors!
The Upstairs Lounge is a licensed restaurant and bar, doors open at 6 pm for dinner service, the band starts playing at 7:30 pm.
Buy tickets