single show
Danny O'Keefe
Friday, March 10, 2023 / 7:30 pm
6:00 pm for dinner service
upstairs Lounge, Oak Bay Recreation Centre, 1975 Bee Street, Victoria, BC V8R 5E6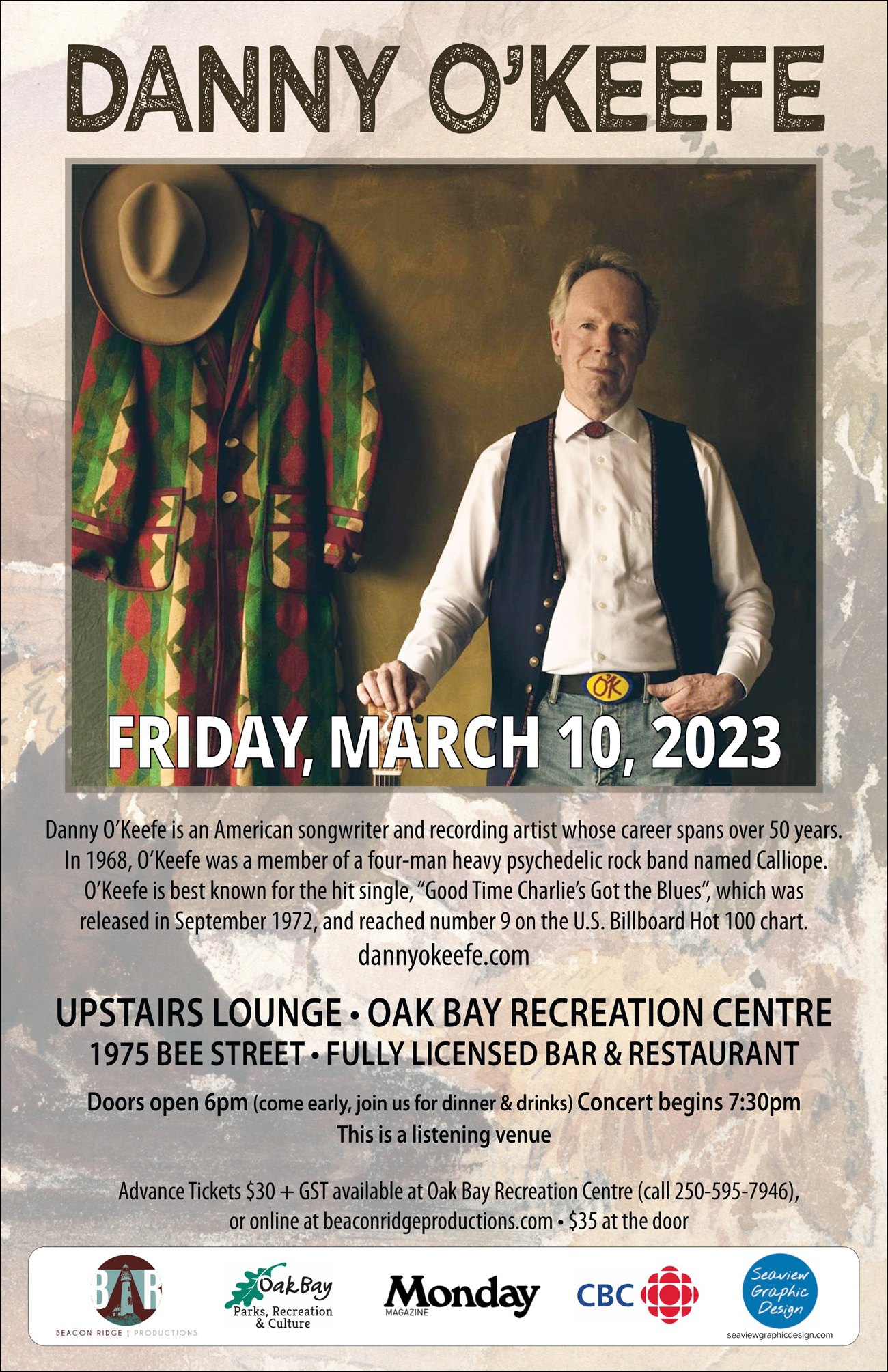 https://dannyokeefe.com
Danny O'Keefe is an American songwriter and recording artist whose career spans over 50 years. In 1968, O'Keefe was a member of a four-man heavy psychedelic rock band named Calliope. O'Keefe is best known for the hit single, "Good Time Charlie's Got the Blues", which was released in September 1972, and reached number 9 on the U.S. Billboard Hot 100 chart, and for "The Road", covered by Jackson Browne on Running on Empty. "Good Time Charlie's Got the Blues" stayed on the Billboard chart for 14 weeks and sold a million copies. Sales culminated in a gold disc issued by the R.I.A.A. in June 1973. The song became O'Keefe's only song to reach the Australian top 100, peaking at number 53 in February 1973.
O'Keefe's songs have been covered by numerous musicians, including Jackson Browne ("The Road"), Gary Stewart ("Quits"), Elvis Presley, Glen Campbell ("Quits"), John Denver ("Along For The Ride"), Donny Hathaway ("Magdalena"), Leo Sayer ("Magdalena"), Jerry Lee Lewis, Judy Collins ("Angel Spread Your Wings"), Leon Russell, Willie Nelson, Waylon Jennings, Jimmy Buffett, Alison Krauss, Ben Harper, Cab Calloway, Mark-Almond, Andy Williams, and Dwight Yoakam ("Under the Covers"). In Italy his song "The Road" has been covered by Ron, with Italian lyrics written by Lucio Dalla (and re-titled "Una città per cantare").
In 2020 O'Keefe released "Looking Glass & The Dreamers". This project was the culmination of Danny O'Keefe's years of historical research, first-hand exploration, and emotional turmoil spent unraveling the tragic story of the Nez Perce Native Americans and how they lost their homeland in present-day Oregon and Idaho. Along the way the project grew and melded into a book featuring a collection of compelling narratives and historical photographs and a CD featuring twelve captivating songs which make up the package.
This is a very rare opportunity to see Danny O'Keefe perform live in Victoria, one you won't want to miss!
Tickets available at Oak Bay Recreation Centre, in person or by phone (250) 595-7946
Buy tickets