single show
Gunning & Cormier
Friday, March 24, 2023 / 7:30 pm
6:45 pm
First Church of Christ, Scientist, 1205 Pandora Ave, Victoria, BC V8V 3R3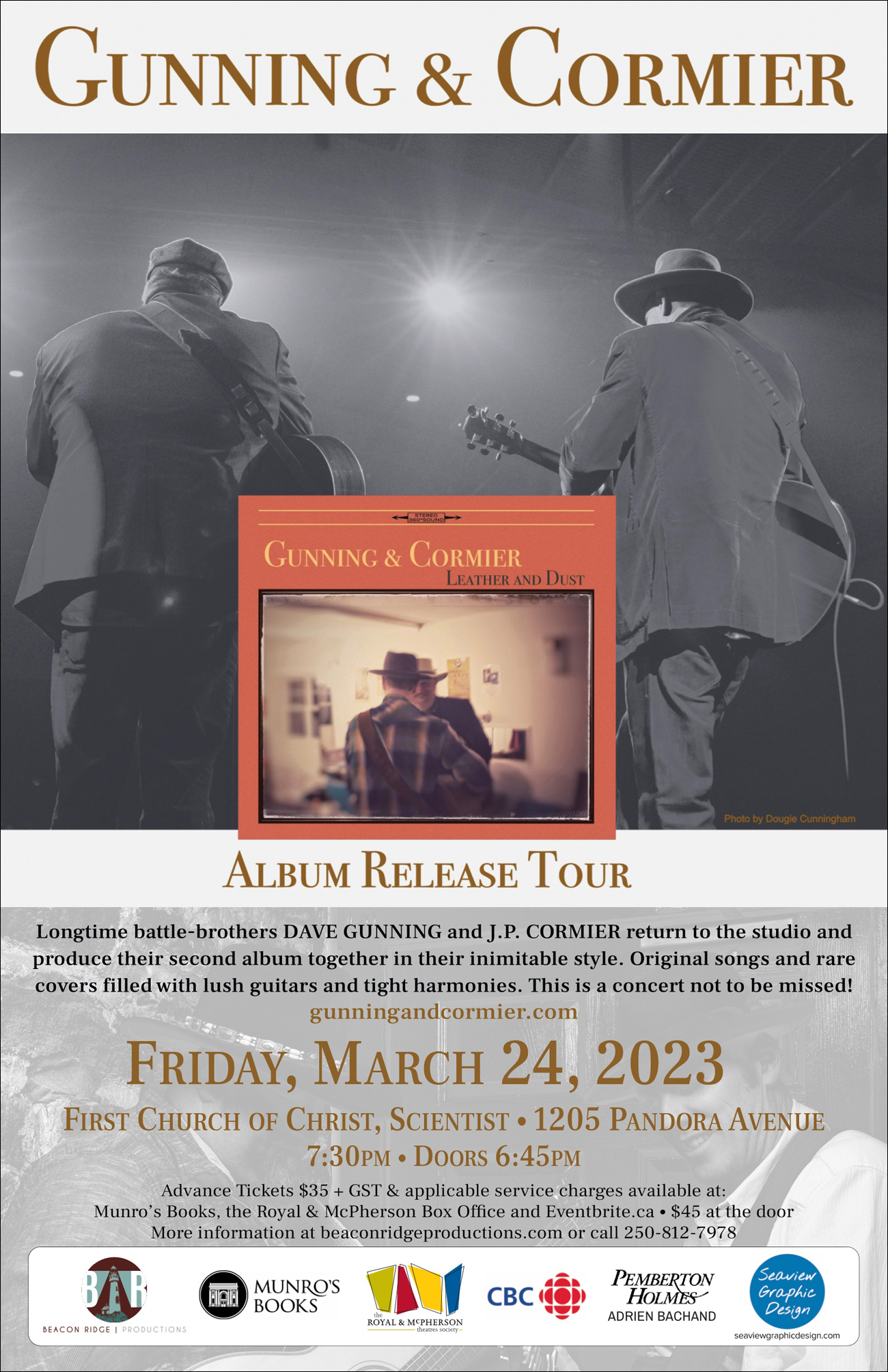 https://gunningandcormier.com/
Two of Canada's greatest roots singer-songwriters have finally done what everybody's wanted — heck, what they've wanted — for years. Dave Gunning and J.P. Cormier are releasing their first album together, called Two. Great friends, frequent collaborators, co-writers and touring partners, the pair has been talking about this album since pretty much the day they met. Now it's here, and it's everything fans hoped and dreamed it would be. The album is called Two because that's what it is, just the two of them.
Gunning & Cormier go back 23 years when Dave had a fiddle player drop out of a show at the last minute. "He hired me for a gig when I was just back from Nashville, nobody knew me here," says Cormier. "We were totally blown away by J.P.'s playing," recalls Gunning. "I remember him saying if you ever do a CD, I want to play on it." That happened, and much more. They played together and wrote together whenever they could, coming up with songs that graced both their projects, over the years showered with awards and nominations on the East Coast and nationally.
"Dave is such a part of my life," says Cormier. "Dave is like my family, he's like a blood relative to me, and he's always been that way. " Gunning feels the same way. "Absolutely, we just became fast friends, and we've been working together ever since." Since they've been two of the busiest solo musicians in the country these past two decades, it's been impossible to schedule time to make a full album and properly tour it. But that all changed three years ago when Cormier moved just down the road from Gunning in Nova Scotia's Pictou County, and the pair were able to meet often at Gunning's home studio.
Two songwriters, interpreters, guitar players, and singers at their peak. It's the power of the song, the highest quality from the past to the now. It's two friends, brothers, uncompromising performers, making the album of their lives. There couldn't be a better time to discover Gunning & Cormier, and the power of Two. This will be their Victoria CD release show, you won't want to miss it!
Buy tickets